Like any form of storytelling in any genre, romance is sure to find it's place in them. Here, I am going to talk about what I personally think are the best love stories in tokusatsu. Now, before I continue, I just wanna say that it's very rare to impress me with love stories. Normally, I either find them terrible, and on rare occasions, just decent at best. The following love stories are the really rare ones that I actually truly enjoyed.
5. Kyousuke (Red Racer)/Zonette from Carranger
One thing I usually hate from love stories is the cliched "love at first sight" crap. That pretty much already spells disaster for any love story. But guess what? This is exactly how the Kyousuke/Zonette love story starts out... in complete Carranger-style parody goodness!! Zonette immediately falls for Red Racer (not Kyousuke, lol) at first glance. He just seems so hot with his sexy visor and red colors. =P Zonette immediately has a crush on Red Racer in ep 13, and decides to make her first move in ep 15.
It turns out that Zonette doesn't even know what love is. xD So she goes to Earth and looks up love stories in manga magazines to help sort out her feelings and to figure out what the heck she's supposed to do. She even questions what's the point in getting this thing called "love." After Zonette reads enough manga, she starts hitting on a really confused Red Racer, and asks him to be her boyfriend. Of course Red Racer is nowhere near ready for something so unexpected. So he turns down her offer. Red Racer thinks it would be best for him and Zonette to start off as friends first. But before he can tell her this, her heart was already broken and she runs off, angry at Red Racer.
So the story continues due to a bit of a misunderstanding. And misunderstandings are another major element for why I dislike so many love stories. They just slow the story down, and even risk making the characters unlikable. But I love how Carranger parodies this. The story makes it very clear that Zonette is a very flawed individual, who's mind prioritizes some of the less important and more ridiculous aspects of life. Such as her shallow reasonings for falling for Red Racer. And after this misunderstanding, the show shows that Zonette still has a crush on Red Racer, but because she's so angry that he rejected her "love," that she refuses to admit it, and continues to claim that she just wants Red Racer to get beaten up. This is particularly shown in ep 19, which results in the two of them getting into a lot of arguments.
The characters of both Kyousuke and Zonette I think are very interesting, cause we get to see how their unique and rather unexpected minds work during such a bizarre situation. As weird as it is, it is very compelling in it's own way.
The story continues in ep 34 where it's revealed that Radiatta (White Racer) is Zonette's sister. She learns of Kyousuke's and Zonette's strange relationship with each other. While there's still tension going on between the two, Radiatta gladly offers her support to help bring peace between the two. The attempt being the use of a journal between Kyousuke and Zonette, which Radiatta dumps in Zonette's car.
By ep 41, despite things still being awkward between the two, Zonette does grow increasingly concerned for Red Racer when Exhaus shows up. She goes to Earth and gives Red Racer the journal, where she has written what Exhaus' big plans are. And by ep 43, she celebrates Xmas by smiling and giving a cheer with her wine towards the Earth, thinking of Red Racer.
The story comes to an end in ep 45. Kyousuke finally decides to confront Zonette and settle things once and for all. So without wasting any time, he transforms in front of her! Zonette of course finds this very strange and rethinks all the past times she had with Red Racer in the show. Zonette however is supposed to get married to Gynamo in this ep (which she doesn't wish to), and tries to run away, but is pursued by Bowzock's best marriage master, EE Musubinofu. Kyousuke attempts to protect her by fighting out of suit, so he can show her HIS worth, rather than Red Racer's. This scene is very touching, yet hilarious at the same time, as it does mean a lot, while Zonette is yelling at him for how stupid it is to fight out of suit. xD But surprisingly, Kyousuke manages to succeed and beats EE Musubinofu. The two finally make peace with each other and become friends. But they realized that their experiences together might've given them some stronger feelings for each other.
Overall, I love how bizarre yet creative this love story is, while sticking to the overall tone of Carranger's style. The two characters are very interesting, despite their weird ways of thinking. And it's great seeing how such a bizarre yet unique plot fleshes out, and how the two truly learn to respect each other. On top of that, parodying what I consider to be some of the worst elements to find in romance stories imo. xD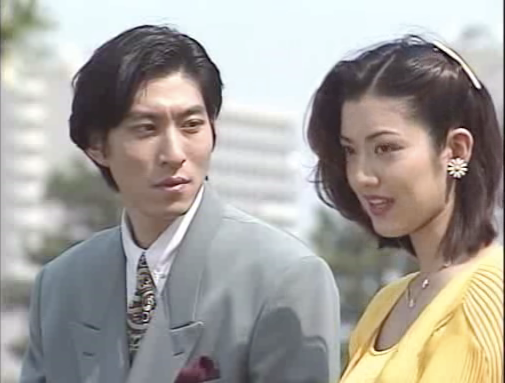 4. Shougo Kuroiwa/Eri from Changerion
Instead of "love at first sight," I far prefer it if the two characters genuinely like something about each other's personalities on a meaningful level. Something this simple is something I sadly find a lot of love stories fail to execute properly. In order for Shougo to survive and continue living, he needs to feed off of the Larm (life energy) from women. And he does so by seducing them with his gorgeous charms. and Eri apparently was next on his menu.
However, during Shougo's time with Eri, he realizes that Eri is quite different from the other women he has seduced in the past. Eri is actually smart, can handle things all on her own, is a very strong individual, and she even introduces Shougo to some things in life that he had never even heard of. As a result, Shougo becomes very intrigued with Eri, and realizes that he does enjoy her company. Eri also finds Shougo to be an interesting individual and a fun person to be with.
However, Eri finds out that Shougo is a part of Darkzide, and that he feeds off the Larm of the women he seduces. Shougo tells Eri that he had no intention of feeding off of her and that he truly did like her. But Eri had little reason to trust him after the revelation, and breaks up with him. Things get even worse when Eri attempts to help sabotage one of Shougo's plans. She does this by making it her turn to do the seducing, claiming that she "still has feelings for Shougo." Shougo goes with it, thinking he had earned a second chance. However, the sabotage mission fails, and Shougo finds out about Eri's plan. This time, it was Shougo's turn to do the breaking up. I guess they're even now. However, Eri truly feels bad about what she had done, and even realizes that she actually does still have some feelings for Shougo.
Eventually, Eri and Shougo finally have a talk and they realize that they truly do love each other. Even going so far as to defend one another from other Darkzide attacks, proving they're there for each other. The two get into a relationship for a little while. But considering how the two are from very different worlds, it puts a major strain in how their relationship could work out. I love the edginess of this storytelling and just how the outcome of it can go in so many directions. And in the end, the two decide to break up, deciding that in the end, it just wasn't going to work out. I love how well written the two characters are and just how fun the love story is.
3. Daigo (Shishiranger)/Kujaku from Dairanger
The interesting thing about this story is that it doesn't focus very much on any sort of romance at the start. And that's what I love. I love how the story is focused on telling an epic story, rather than strictly focusing on the two characters getting together. Instead, the romance just rides along with the storytelling!
Daigo at the start is impressed by how unique and beautiful and masterful Kujaku's kempo and Qi-Power are. However, due to Kujaku being sealed away for 6,000 years, Kujaku is burning with revenge towards Gara, and will do anything to exact her revenge, even if it means hurting and killing innocent lives. Daigo spends the first few eps of this story trying to help her back to her former kind gentle self. His experiences with her leads him to realize that he does truly like her. In the end, Daigo does manage to snap Kujaku back to her senses, which she is grateful towards him for.
However, Kujaku is dying due to the Earth's pollution. And she's trying to find the Sacred Peacock Tears, which'll cure any ailments. I love how the story continues to be imaginative. Daigo continues to help her in any way he can. However, the story sadly ends tragically, yet very satisfying. The story overall was a lot of fun, and I really liked Kujaku and Daigo as characters.
2. Takeru (Red Mask)/Mio from Maskman
I love how this story focuses so much on the action and plot, and how the love story just glides along with it all. The show quickly establishes that Takeru and Mio have a very close relationship with each other. However, their time together is cut short when Tube encases her in ice. Takeru has to then immediately learn to not let his troubles with Mio cloud his judgement, as he has his responsibilities as the Maskman leader to focus on fighting Tube and defending the Earth. But despite that, Takeru refuses to completely forget about Mio.
However, Takeru and Mio's relationship leaves a pretty devastating scar on the Igam name. Igam is fueled with hatred towards Takeru as a result, and wishes to kill him herself. And things get even more intense once Kiros shows up, who wants Mio all to himself, creating a love triangle. I love how so many intense conflicts come out of this story. And the whole thing ends on a pretty bittersweet, yet satisfying note.
1. Asuka (Abareblack)/Mahoro from Abaranger
Here, we've got a story where two characters were already engaged. However, things go horribly wrong when the Evolian come in and split the two apart. Mahoro gets kidnapped and is brainwashed into the cruel Jeanne. Thus, it's up to Asuka to try and get back together with her, so they can hopefully continue living happily.
The clash between Asuka and Jeanne brings a lot of epic and touching moments. And it all eventually climaxes (for now) when Jeanne uses the Cursed Armor to kill Asuka. Asuka then cuts Mahoro down himself. In doing so, Jeanne is vanquished, freeing Mahoro, but at the cost of Asuka becoming the new host for the Cursed Armor.
Mahoro eventually pretends to be a revived Jeanne and uses Mikoto to help cut the Cursed Armor off of Asuka (Mikoto wanting the armor for himself). The plan works, however, Mahoro remains with the Evolian, continuing to pretend she's Jeanne, in order to hopefully figure out a way to defeat Dezumozorlya. Eventually, the story ends with the two happily reuniting, after the conflict is over.
I just love how the emphasis of this story isn't on getting a relationship to work, but just trying to get the relationship to continue by getting all these evil doers out of the way. And both characters do a fantastic job in their attempts to claim their happy ending. The plots are downright amazing.